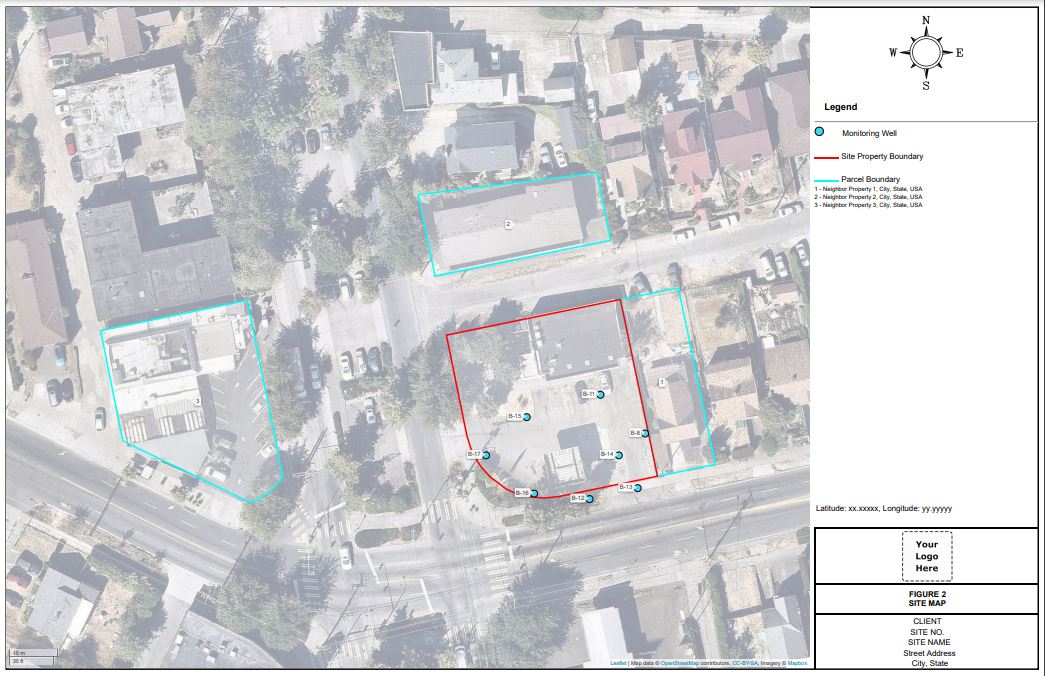 DIY Site Plans and Maps with Property Boundaries Online
LOGitEASY Report Figure GIS software allows generating Site Maps online in 5 different zoom levels, on aerial, street or topography/terrain background, with or without survey information.

Survey information (boreholes, underground utilities, underground storage tanks, excavations, etc.) can be added to site figures in four different ways:
Add coordinates (Lat/Long, State Plane (SPC) or UTM) to boreholes completed using the LOGitEASY eForm
Add additional survey points manually, by entering coordinates
Upload individual survey point coordinates as a csv file
Upload survey information of points and other features as GeoJSON files
You can also add property lines and neighboring parcel boundaries by selecting their location on a map (USA). Our property parcel database covers entire United States and we are also looking to acquire property lines for certain areas outside the USA.
Site Plans are delivered in PDF format, on 11x17" titleblock, including your logo, client name, site # or name, and site address.

If you require geocoded parcel boundary files in CSV, GeoJSON, AutoCAD dxf, ESRI shape, GeoTIFF, KML, or other formats for use in other applications, please reach out.